Connect with any ERP System
Your enterprise resource planning (ERP) system is an indispensable tool in your organization's financial strategy – crucial for coordinating myriad accounting processes, ensuring compliance, and reporting to stakeholders.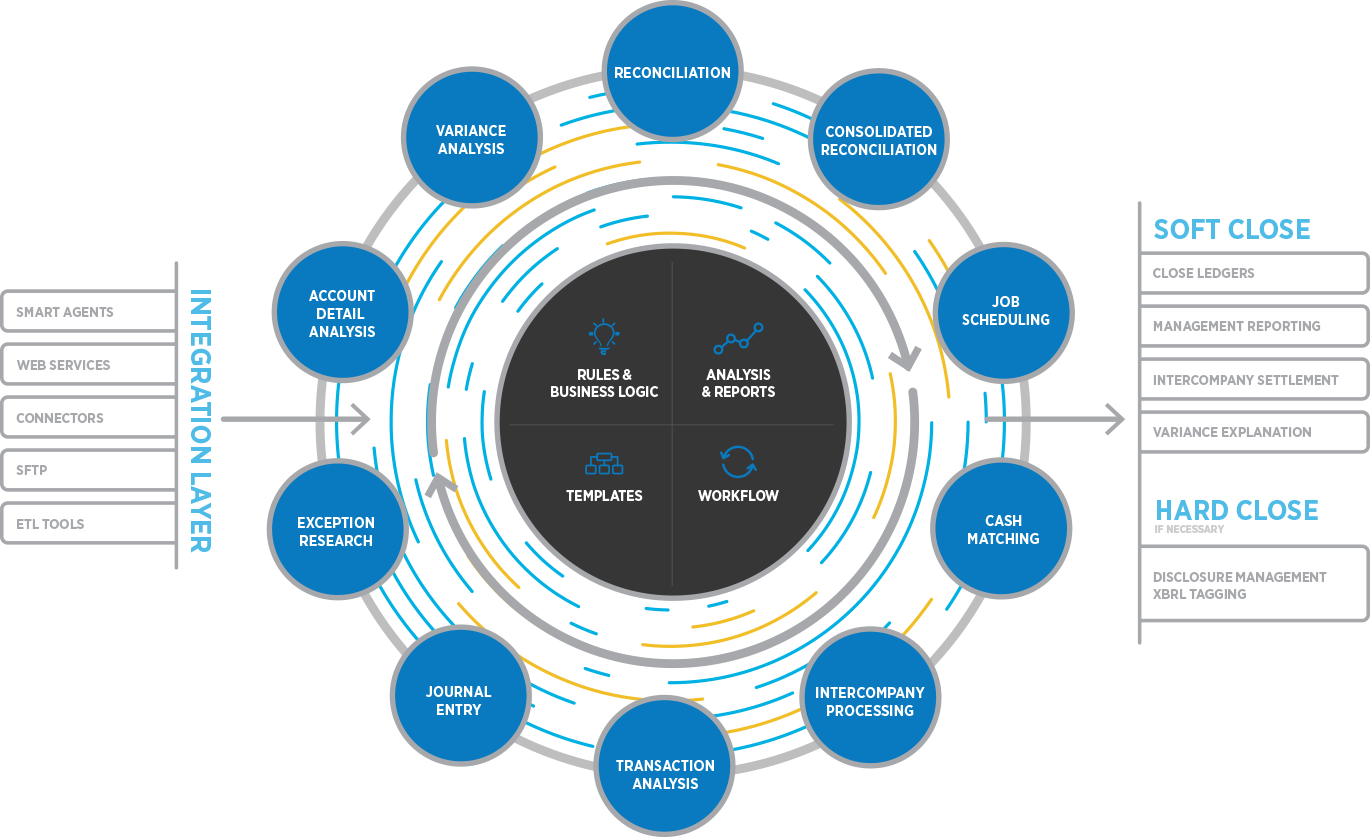 But no ERP can do it all. Despite the maturity of many ERP solutions, they simply were not designed specifically for accounting and close processes. BlackLine is designed to plug functionality gaps in core financial processes and complement your ERP system. Whether you have one cloud-based system or many on-premise systems across the globe, integrating your ERP with BlackLine helps by bridging the gaps associated with complex finance and accounting processes. This provides real-time visibility into the status and accuracy of your close, and saves IT resources from creating labor-intensive ad hoc solutions to emerging challenges. BlackLine solutions provide critical "last mile" functionality missing from ERP platforms.
Download BlackLine ERP Integrations Data Sheet
Download
Modernize Your Financial Close
Most financial systems are tailored to a bygone era of accounting processes. Traditional finance is time-consuming and error-prone, even with the latest in technology. At its core, an ERP is designed to verify complex transactional information, not validate it. While ERPs can and do automate many accounting processes, they fall short when it comes to certain critical processes, such as the financial close. However, by integrating your ERP with BlackLine, you can modernize and automate accounting processes and improve accountant efficiency, gain new visibility into key financial processes, and reduce risk with controls enforcement.
Improve Efficiency
A largely manual accounting process is unnecessarily inefficient and out of date, as well as error-prone and risky, given the technology available today. The BlackLine Finance Controls and Automation Platform facilitates comprehensive process automation when integrated with ERPs. BlackLine clients automatically import ERP data, match thousands of transactions in minutes, auto-certify a significant percent of their account reconciliations, and reduce time spent preparing journals. Not only are these practitioners of Modern Finance freeing their accounting teams from mundane, transactional processes and empowering them to focus more on high-value analysis, but they also see significantly reduced costs in printing, production, and storage of supporting documents.
Provide Visibility
A lack of visibility and transparency into core financial and accounting processes and the financial close in particular, leaves room for uncertainty into the status of the close. The resulting lack of confidence delays business decisions and, worse still, opens up a company to the possibility of misstatements. BlackLine delivers embedded analytics, dashboards, and configurable reports to help clients manage the entire close process. This means organizational leaders can rapidly make more informed decisions, saving time and resources while also instilling confidence in the market and among financial analysts. Upon integrating BlackLine with their ERPs and automating data, CFOs and controllers rest assured with real-time visibility into financial data and high-risk items throughout the period.
Reduce Risk
The elimination of the risks associated with reporting and closing accurately require not only the installation of controls, but effectively enforcing them as well. To get the most out of the application, BlackLine clients import financial data from the ERP – eliminating the risk of data entry errors – and rely on the key controls around which BlackLine was built. Clients standardize their processes, enforce rules, and add workflow throughout their organization. Each step in the process is tracked with a full audit trail and configurable risk rules to quickly identify irregular activity.
No. Not All Financial Automation Software is the Same
Many software companies claim they can do all the same things to eliminate risk, enhance visibility, or improve efficiency. While some can help with specific segments of the financial close, including some of your ERPs, BlackLine is the first, largest, and fastest growing provider of financial close automation software in the world. BlackLine is the world's most trusted Finance Controls and Automation solution. With over 3,000 customers and over 260,000 users, that is not a clever marketing slogan, but a statement backed up by facts and yielded by a set of unique features.
Unified Cloud Platform
Unlike other Franken-suite software providers that often skin acquired applications under one user interface, BlackLine is a single code base with integrated functionality across the only truly unified cloud platform among Enhanced Finance Controls and Automation solutions. This unification is what makes BlackLine so capable of integrating with other ERPs, and it provides one reporting engine across all products, intuitive familiarity for end users and administrators, and efficiency gains through native cross-product integration. The BlackLine platform is a private cloud without third party hosting, which ensures security while helping provide industry leading uptime and hot disaster recovery.
Industry Leading Security
BlackLine takes information security seriously. Financial information is not for public consumption, and through continual penetration testing that includes weekly vulnerability scans and annual tests by third parties, BlackLine ensures the integrity of client financial information. This ISO 27001 Certified Platform also has earned certifications in SSAE16, SOC2 Type II, and SOC3, and coupled with top tier data centers, BlackLine is trusted by organizations including everything from casinos to government defense contractors.
Client-Focused Innovation and Support
From the very beginning, BlackLine was driven by customer needs. The very first incarnation of the account reconciliation product was launched when a customer described how difficult it was to track who owned what reconciliations in a spreadsheet. BlackLine's commitment to its clients and their users persists. From the always accessible learning management system, BlackLine U, to our 24/7/365 customer support, it is an organizational imperative to not only get users up and running quickly, but also give them resources within BlackLine when needed. Input from client organizations filters through a community of users providing feedback that directly informs and drives the future of the product.
Global ERP Integration
BlackLine provides simple, secure, and automated tools to import data from any system. The ease of integration allows users to send data from their ERP to BlackLine as well as from BlackLine to their ERP. The system is truly ERP and system agnostic – we support files from any single system, from multiple systems in use, and from third parties on your behalf. In addition, for companies with multiple systems and complex needs, we can connect with any number of general ledger systems simultaneously, resolving many of the issues associated with consolidating data across systems.
Accounting
AS400
Banktel
Cobalt
CostPoint
Deacom
Deltek
Dynamics SL
Epicor
Filosoft
Fiserv
Flexi
Homegrown
Infor GEAC
Infor LN (Baan)
Infor Lawson Fixed Assets
Infor Lawson General Ledger
Infor Lawson Project Accounting
Infineon
Infinium
Intacct
Jack Henry
Ledger
MAS500
McKesson
Metavante
Microsoft Dynamics AX, GP, NAV, SL
NetSuite
Oracle Hyperion HFM
Oracle Hyperion Essbase
Oracle A/P
Oracle A/R
Oracle Cash
Oracle Fixed Assets
Oracle General Ledger
Oracle JDE
Oracle Project
Outlook Soft
Pathways
PeopleSoft Fixed Assets
PeopleSoft General
PeopleSoft HR
QAD General Ledger
QuickBooks
SAP BW
SAP BPC
SAP Fixed Assets
SAP General Ledger
SAP Open Items
Scala
Workday
Yardi
Enhanced Finance Controls and Automation
BlackLine is the leader in Enhanced Finance Controls and Automation (EFCA) software and the only provider that offers a unified cloud platform supporting the entire close-to-disclose process. The BlackLine Finance Controls and Automation Platform helps midsize companies and large enterprises by filling in the gaps left by ERP and CPM systems, and thereby strengthening controls, lowering compliance risks, and gaining greater efficiencies and visibility throughout the last mile of finance. Delivered through a scalable and highly secure cloud model, and built from a single code base, the platform supports many key accounting and financial processes, including the financial close, account reconciliations, intercompany accounting, and controls assurance, fueling confidence throughout the entire accounting cycle.