SAP & BlackLine: Improving the End-To-End Financial Close Process, Together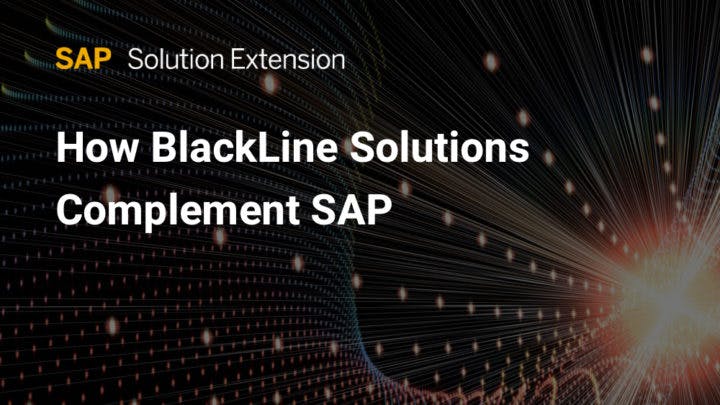 This article originally appeared on SAP's blog and is Part 1 of this blog series. Read the full series here.
<iframe src="https://www.youtube.com/embed/4MvAOdFB97s" allowfullscreen="allowfullscreen" width="560" height="315" frameborder="0"></iframe>
If you're running SAP or closing with BlackLine, you may have already heard about our new partnership.
Last fall, BlackLine became an SAP Solution Extension. A Solution Extension is a strategic third-party solution developed by an independent software partner that offers innovation and cross industry functionalities that complement your SAP business solution.
SAP Solution Extensions by BlackLine include:
SAP Account Reconciliation and Automation by BlackLine, with functionality for Account Reconciliation, Variance Analysis, Task Management, and Compliance
SAP Account Reconciliation and Automation by BlackLine—premiere edition is an add on to the above which adds functionality for Journal Entry Management and Transaction Matching
SAP Intercompany Financial Hub by BlackLine, which can be sold separately
This partnership represents the top tier of SAP recognition, and enables SAP to offer an extended, end-to-end solution for the financial close.
I sat down with Stephanie Miller, SAP's Vice President of North America S/4HANA Finance Center of Excellence and Molly Boyle, BlackLine's SAP Solutions Expert, to talk about how the expanded partnership benefits SAP and BlackLine customers.
Elizabeth: Stephanie, can you offer your thoughts on the new Solution Extension partnership—why it's important and what it means to SAP?
Stephanie: It's very exciting! While BlackLine and SAP recently entered into the Solution Extension agreement, our relationship isn't new—it's just expanded.  Prior to the new partnership, BlackLine was an Endorsed Business Solution.
To expand the partnership, there was a rigorous evaluation period that lasted over a year, as SAP's development team worked together with BlackLine's to understand not just the business value provided by their solutions, but how they complement and extend SAP.
Elizabeth: How are solution extensions partners different from other SAP partners?
Stephanie: This partnership is by invitation only. It's not something you apply for. SAP initiates and says, "We think your offering will complement the SAP solution area."
With this partnership, SAP now sells SAP Solution Extensions by BlackLine—so they're part of our offering and extend our offering for the financial close.
Also, our product road maps are now integrated, so we'll be working together with BlackLine when developing and enhancing our product set for the financial close.
Finally, it's important to note that there are over 18,000 partners in the SAP ecosystem, but there are only 31 Solution Extension partners, and BlackLine is the only solution extension that exists within the financial close.
Elizabeth: Molly, what does this partnership mean for BlackLine?
Molly: SAP has recognized BlackLine solutions as complementary to its ERP platform—this proves that we are truly a leader in this space. As Stephanie mentioned, I think it's exciting for BlackLine and SAP to work together on the future product road map.
There are already over 600 customers that run SAP and use BlackLine, but this partnership is an opportunity for us to address a much bigger market, which includes customers already running SAP as well as those that are net new to both BlackLine and SAP. Together, we can really tell an end-to-end story for the record-to-report process.
Elizabeth: What will change now that SAP is selling SAP Solution Extensions by BlackLine directly?
Molly: Previously, BlackLine sold products for the financial close directly to SAP customers. SAP recognized the opportunity to bundle some of these BlackLine products together, to create meaningful packaged solutions for SAP customers.
Stephanie: The first is SAP Account Reconciliation and Automation by BlackLine. That solution includes Account Reconciliation, Task Management, Compliance, and Variance Analysis functionalities.
There is also an upgrade of this first solution bundle to a 'premier edition', which includes the initial four solutions plus Transaction Matching and Journal Entry.
The third solution is the SAP Intercompany Financial Hub by BlackLine, which is BlackLine's solution to manage the full end-to-end process for intercompany. It can be purchased independently from or in addition to the first two.
Molly: Data can flow seamlessly between BlackLine and SAP via a certified connector, which provides connectivity between the two platforms and ensures data integrity and completeness. This certification was no small feat and will bring significant time savings to SAP customers using SAP Solution Extensions by BlackLIne.
Elizabeth: What value do the SAP Solution Extensions by BlackLine bring to customers during the close process?
Stephanie: SAP and BlackLine solutions both have powerful functionality. Through this new partnership, they're helping customers improve the full record to report process.
Together, SAP and BlackLine solutions bring automation, speed, efficiency, quality, and governance to our customers' close processes. This enables a Continuous Accounting approach and allows for better agility, transparency, and insight throughout the month and at month-end.
Molly: In today's environment, many companies are focused on enterprise-wide transformation, and one of the goals of those initiatives is streamlining the technology stack to avoid too many silos and point solutions.
One of the exciting aspects of this partnership is that it allows customers the opportunity to purchase a complete solution from SAP.C
A Blog Series to Answer Your Questions
There are a number of common questions about BlackLine and SAP and how our solutions work together. Molly, Stephanie, and I worked together to write this blog series to answer them:
Elizabeth Milne
Modern Accounting