BlackLine Intercompany Hub
Centralize and streamline end-to-end intercompany accounting
Download White Paper
Eliminate the biggest bottleneck and risk to a fast, accurate global financial close with an integrated intercompany accounting process. The BlackLine Intercompany Hub empowers organizational entities and business units to approve, review, and reconcile intercompany transactions and balances across currencies and geographies in real time. Centralize end-to-end intercompany accounting management and streamline process, reduce risk, and realize global visibility.
BLACKLINE INTERCOMPANY HUB
The BlackLine Intercompany Hub is a clearinghouse for intercompany transfer agreements and transactions that eliminates the need for after-the-fact manual intercompany reconciliations, netting, and settlement. The BlackLine Intercompany Hub centrally interfaces with all of a company's core ERPs and other systems, creating intercompany transactions and distributing data and automated journal entries from a centralized system. This provides the means for a single process for agreeing to, creating, posting, and settling intercompany transactions. With a single process, companies gain the highest degree of data integrity and regulatory compliance. All of the complexity inherent to intercompany accounting and intercompany reconciliations, including issues over currency exchange rates, transaction amounts, recorded taxes, journal entry creation, and approval workflows, are neatly and automatically managed within the BlackLine Intercompany Hub.
Global, Multi-Entity Centralization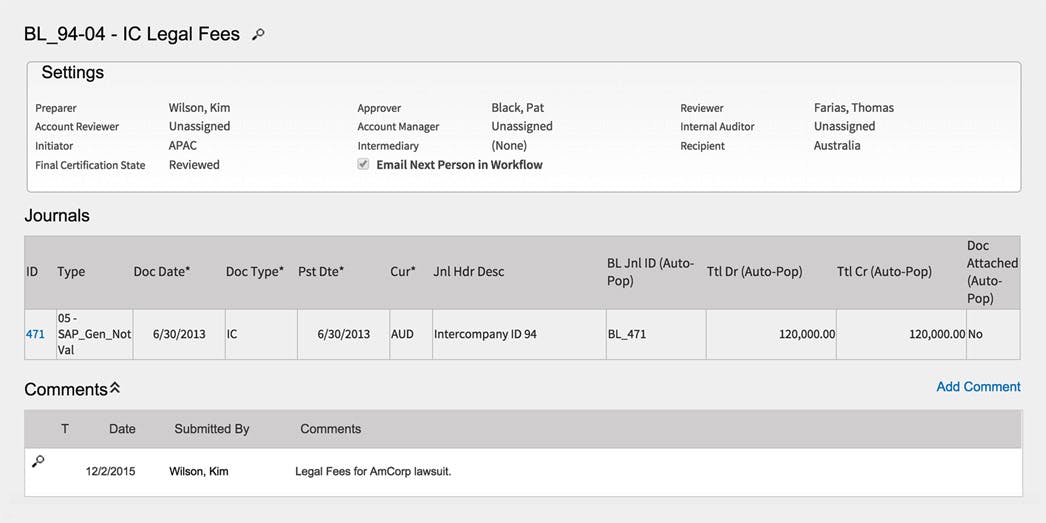 Bringing intercompany data from every entity's systems into BlackLine's cloud-based system yields a single, centralized view into all activity around intercompany accounting. From one interface, accounting teams can create, approve, review, and reconcile transactions across entities, accounting groups, currencies, and geographies. The BlackLine Intercompany Hub provides real-time processing, eliminates differences, generates invoices, and automatically books journal entries to otherwise disconnected systems, removing the need for manual intercompany reconciliations.
Decreased Risk and Maximized Control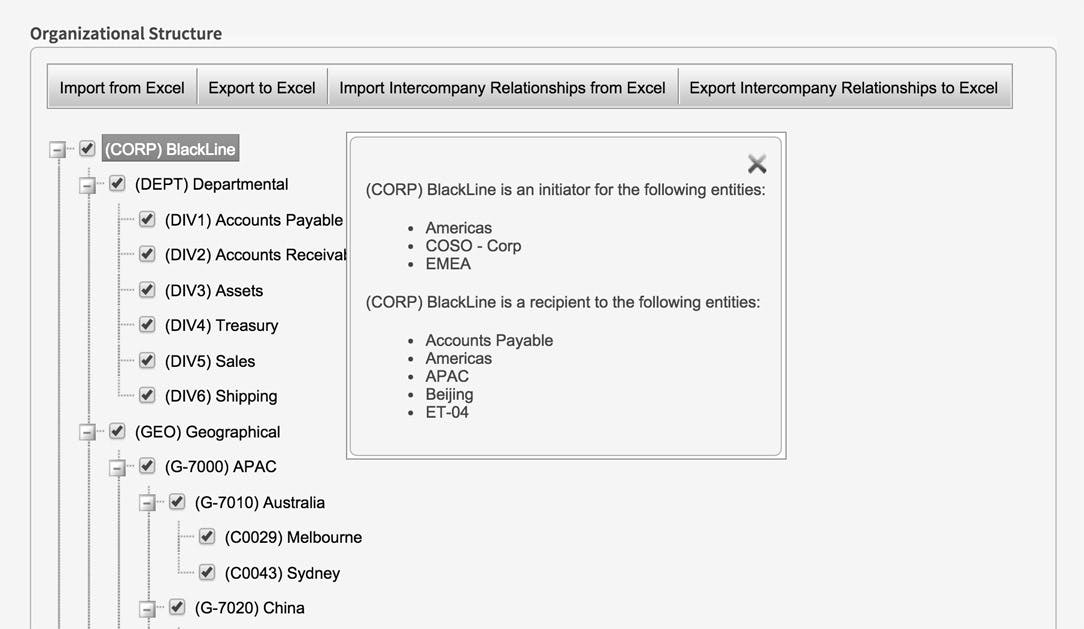 The BlackLine Intercompany Hub manages the intricacies of currency values, transaction amounts, and tax implications with precise, customer defined templates than can be enabled on an entity-to-entity basis. Such templates include specific settings for approval workflows, VAT taxes, multiple currencies, and even intermediate entities for tax optimization. The controls are applied when automatically creating and booking journal entries across all entities' disparate systems. Each company's customizable intercompany transaction governance guidelines and controls ensure compliance and control through every step in this historically complex process.
Streamlined Settlement and Global Visibility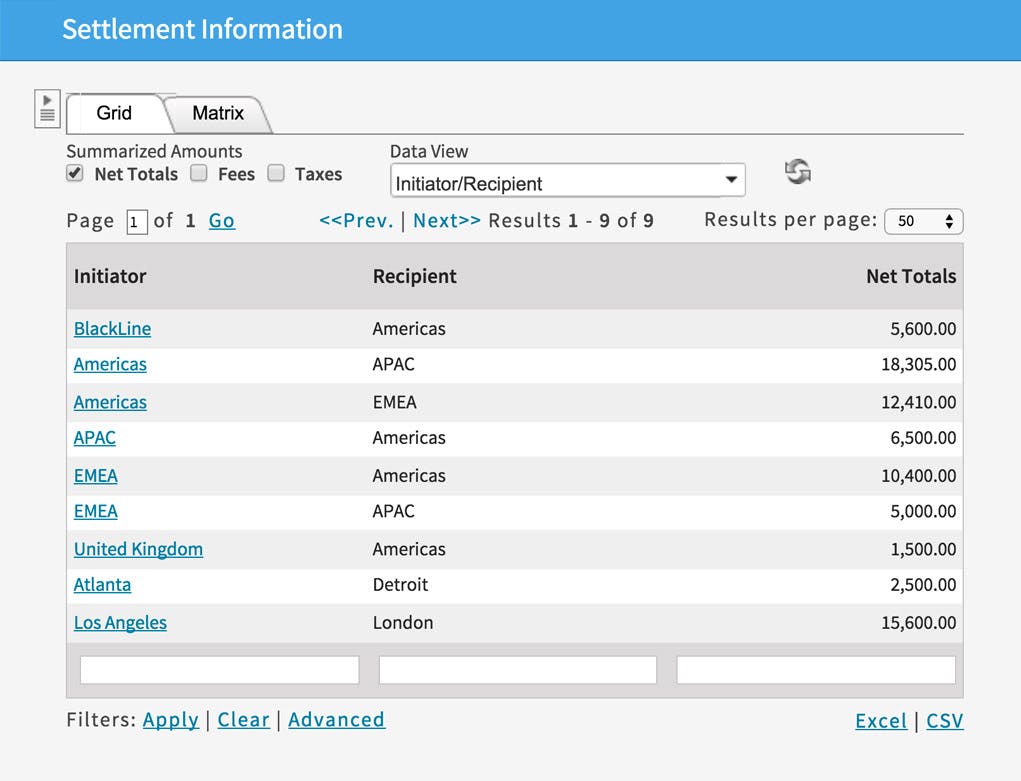 Accounting and finance managers gain real-time intelligence into the business by viewing settlement amounts – who owes whom within an organization – and drilling down into specific initiator-recipient relationships to view the associated transactions. This is possible because intercompany transactions are tracked across the entire process from inception and approval to journal creation and posting. Every step in the process is fully auditable within a centralized hub. This end-to-end coverage allows organizations to avoid discrepancies and exceptions, eliminating the need for manual intercompany reconciliations, while providing full visibility into global currency movements and exposure.
Multiple ERP Interoperability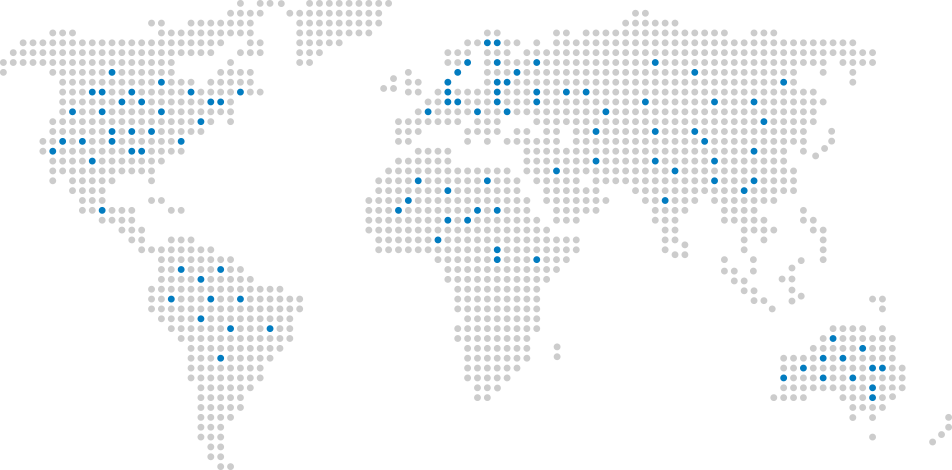 Multinational and multiple-entity organizations often use different, disconnected ERP systems for a variety of reasons. ERP connectivity, from data integration to journal posting, is required to successfully centralize global intercompany accounting. Whether using a single ERP system across all entities or many disparate financial systems around the world, BlackLine software integrates with your existing systems to manage complex end-to-end intercompany accounting all in one place, a single source of truth for global organizations.
THE MODERN FINANCE PLATFORM
BlackLine is modernizing the finance and accounting function to enable greater productivity and better detection of accounting errors through Continuous Accounting. This new approach embeds automation, control, and period-end tasks directly within day-to-day activities, allowing the rigid accounting calendar to more closely mirror today's dynamic business environments. As a result, companies can constantly monitor for error, fraud, and inefficiency before they become material misstatements.
BlackLine's cloud-based solutions transform Finance & Accounting by automating, centralizing, and streamlining financial close operations, intercompany accounting processes, and other key F&A processes for large and midsize organizations across the globe. Designed to complement existing financial systems, BlackLine fills the gaps left by ERP and CPM systems to help companies increase operational efficiency, real-time visibility, and control and compliance. This ensures end-to-end financial close management and accounting automation, and drives better decision-making across the business.
Move beyond outdated accounting processes and point solutions, and empower your teams to work smarter and more efficiently. Accounting and finance departments in more than 2800 organizations around the world trust BlackLine to ensure accuracy in their accounting processes and the integrity of their financial statements. That's more than 236,800 accountants, managers, controllers, auditors, and CFOs who rely on BlackLine to perform their mission-critical processes in near real time.
LEARN MORE