Eliminate the biggest bottleneck and risk to a fast, accurate global financial close with an integrated intercompany accounting process. The BlackLine Intercompany Hub empowers organizational entities and business units to approve, review, and reconcile intercompany transactions and balances across currencies and geographies in real time. Centralize end-to-end intercompany accounting management and streamline process, reduce risk, and realize global visibility.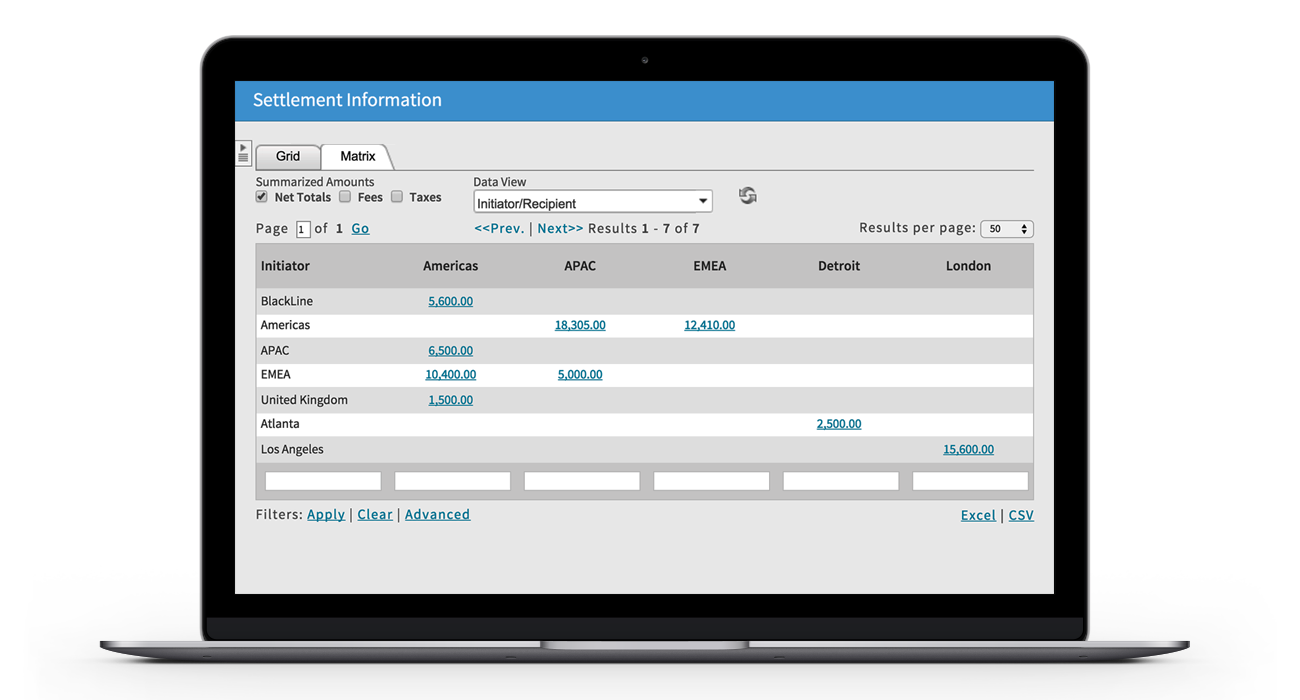 BlackLine Intercompany Hub
The BlackLine Intercompany Hub is a clearinghouse for intercompany transfer agreements and transactions that eliminates the need for after-the-fact manual intercompany reconciliations, netting, and settlement. The Intercompany Hub centrally interfaces with all of a company's core ERPs and other systems, creating intercompany transactions and distributing data and automated journal entries from a centralized system. This provides the means for a single process for agreeing to, creating, posting, and settling intercompany transactions. With a single process, companies gain the highest degree of data integrity and regulatory compliance. All of the complexity inherent to intercompany accounting and intercompany reconciliations, including issues over currency exchange rates, transaction amounts, recorded taxes, journal entry creation, and approval workflows, are neatly and automatically managed within the Intercompany Hub.
The Modern Finance Platform
BlackLine's vision is to modernize the accounting and finance function to empower greater productivity and detect accounting errors before they blow up into a devastating financial restatement. BlackLine is the leader in Enhanced Finance Controls and Automation (EFCA) software and the only provider that offers a unified cloud platform supporting the entire close-to-disclose process. BlackLine's platform gives life to a novel concept called Continuous Accounting. This new approach embeds automation, control, and tasks not typically performed until the period-end, directly within day-to-day activities, allowing the rigid accounting calendar to more closely mirror the dynamic nature of the actual business cycles. As a result, companies can constantly monitor for error, fraud, and inefficiency. The Intercompany Hub enables continuous analysis of global intercompany settlement in real time. CFO and Controllers will know who owes whom in the organization at any given moment and be able to monitor trends across global currencies. Continuous Accounting and the Intercompany Hub means leaders are always working with data-driven intelligence.
The BlackLine Intercompany Hub enables customers with multiple companies and entities to automate time consuming intercompany reconciliations, netting, and settlement. Instead of complex, disjointed accounting processes, the Intercompany Hub empowers finance and accounting organizations to work smarter, not harder, while providing unprecedented global visibility. The BlackLine Finance Controls and Automation Platform helps midsize companies and large enterprises by filling in intercompany gaps left by ERP systems and thereby strengthens controls, lowers compliance risks, and introduces greater efficiencies and visibility in every step of the intercompany accounting process.