Master Knife Skills Like a Chef
CFO Masterclass
Thursday, June 17, 2021 — 3:00pm PT
You're invited
CFOs cut through "BS" with surgical precision. Our blades are sharp because they have to be. There is no room for error. But when is the last time you sharpened your real-world knife skills? We cut costs proficiently and yet cutting an onion can reduce us to tears.
I selected this masterclass for us because a knife skills course reminds me of an important foundational principle: mastery requires a thorough understanding of the basics. And, well, my last knife skills course taught me how to cut an onion without shedding a tear. I'm not crying, there's something in my eye.
Join me along with a handful of other CFOs and BlackLine's CEO Marc Huffman as we hone our knife skills and become overnight masters in the kitchen.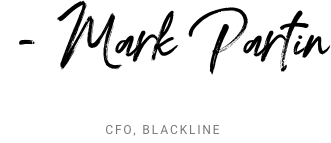 Master Knife Skills with Chef Joel David Miller
Mastering basic knife skills is one of the most essential parts of cooking. Delve into the culinary arts with this hands-on experience as we explore different knife techniques and how they are best used.
One of Los Angeles' best chefs, Joel David Miller, will guide us through the proper methods to chop, slice, pair, dice, mince, and julienne. We'll wrap up with a delicious tasting and enjoy the fruits of our labor over a glass of wine.
RSVP to join at 3:00pm on Thursday, June 17, 2021