What Is Continuous Accounting?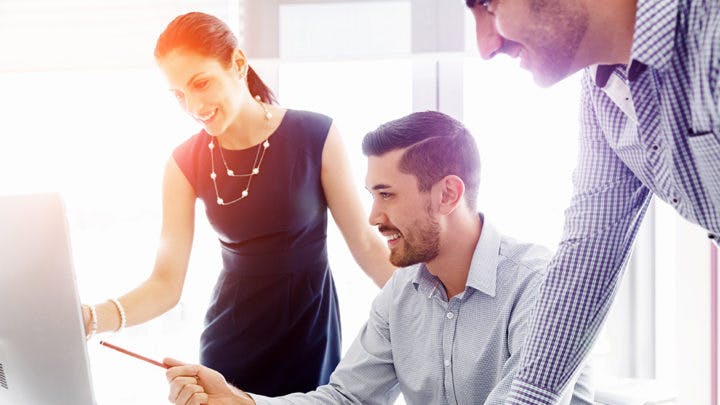 <iframe width="560" height="315" src="https://www.youtube.com/embed/5rtT5fNs5yM" frameborder="0" allow="accelerometer; autoplay; clipboard-write; encrypted-media; gyroscope; picture-in-picture" allowfullscreen></iframe>
There's cause for a lot of optimism in finance. By 2020, Accenture predicts that Finance productivity will increase by two to three times, and organizational costs will decline by 40%. They also foresee a dramatic shift in time spent on analysis, from a mere 25% today to 75% in the future.[1] These transformative predictions are due in large part to the digitization of accounting, and the digitization of business in general.
Finance is shifting from traditional manual accounting processes to more flexible, agile, cloud-based solutions. Technologies like cloud computing, mobile, automation, and analytics are delivering dramatic improvements in efficiency, and finance organizations are getting on board, with 82% of CFOs pointing to cloud applications as the future of their business applications.[2]
Process automation solutions provide the productivity benefits Finance needs to focus on reporting and analyzing financial performance. For organizations to move away from legacy systems and processes and toward reducing cost and improving productivity, roadblocks in the four key areas of automation, talent, risk, and technology must be overcome.
Enter Continuous Accounting. This new approach distributes your workload evenly over the accounting period, allowing you to process data and transactions as they come in. It embeds automation, control and period-end tasks within daily activities so you can align your accounting schedule with the rest of business. It shortens the close, smooths out end of period spikes and produces real-time reporting, analysis, and awareness, shifting your focus from where you were to where you are now.
Automating the record-to-report process is the first essential step, but it can only take you so far. Continuous Accounting provides a way forward, transforming tasks like reconciliations, intercompany processes, transaction matching and variance analysis, so they aren't just automated: they're real time. The faster close and efficiency benefits reduce overtime and the weekend crunches that often overload and burn out accounting talent. It turns the visibility of financial results that are traditionally reserved for the close process into a real-time picture at any point in the accounting period.
The ability to perform tasks in smaller chunks on a more frequent basis smooths out workloads. Being able to evaluate the integrity of information at any point in time enables continual monitoring for errors, fraud, and inefficiencies. Anytime access to the data allows teams to look at the impact of changes like currency fluctuations with up-to-date financial data. In short, Continuous Accounting more evenly distributes the workload associated with the period-end close, while enabling constant reporting, verification, and analysis.
This is done by combining a mix of people, process, and technology. Many companies have found ways to leverage technology to shorten their record-to-report close cycles with automation, but improvements are still limited by the old way of doing things.
Continuous Accounting is more than a change in technology. It's a fundamental shift in philosophy. The technology takes care of processing transactions as they come in, but the people, now refocused on continual analysis of discrepancies and anomalies, are unleashed to do what drew them to this profession in the first place. Moving from record-to-report to Continuous Accounting is a practical, stepwise application yielding quantifiable benefits.
The future of finance is bright. With Continuous Accounting, the way it's always been is about to be replaced with the way it ought to be.
Susan Parcells
Enterprise Account Executive
Modern Accounting