15 days ago
Policy as a Foundation for Automation & Standardization - Presented by Clearsulting Emily Perkins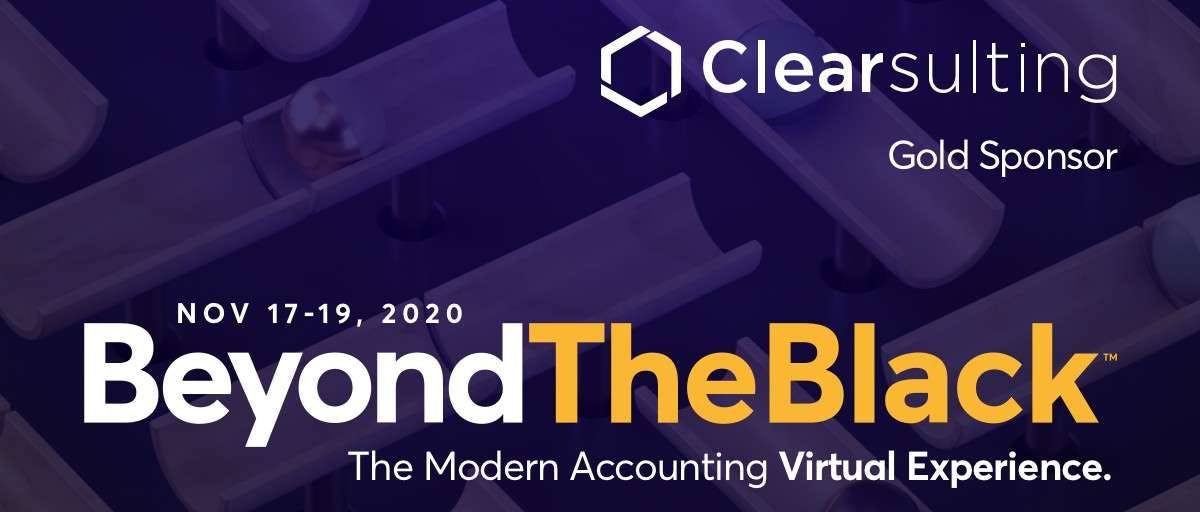 A holistic approach toward implementing the Journals module is vital to seeing the highest ROI possible out of BlackLine technology. Clearsulting, a management consulting firm and BlackLine implementation partner, and Alexion, a global biopharmaceutical company, discussed the importance of taking a process, policy, and technology driven approach, and why they built in the business validations to ensure accuracy across journal entries.
Some common challenges that Clearsulting sees in the record-to-report space at many large companies:
New systems but old processes

Incomplete M&A integrations

Complex regulatory changes

Stale service delivery model

A growing talent gap
Alexion recently went through a BlackLine Journals implementation and engaged Clearsulting to support the project. Prior to starting the implementation, Alexion took a step back to analyze their journal entry process, as it was not sustainable or operationally efficient.
Challenges they faced were:
Outdated processes and documentation

Manual journal entries that required posting and review

Control limitations increased risk of error

Numerous delivery locations

High turnover meant significant time on training and onboarding

Multiple layers of manual data manipulation and calculation
Clearsulting's approach and guiding principles for the implementation included improved controls to establish standard processes and policies across in-scope journals, streamlined processes to leverage different automation technologies and decrease cycle times, and process visibility to establish a centralized monitoring process for tracking key KPIs, statuses and insights.
The Alexion Implementation Roadmap
Core improvements to Alexion's journal entry process began in late 2019 and carried into 2020. These improvements included redesigning policies and governance structure, driving JE standardization and automation, and continuing to embrace digital technologies.
For each phase, Clearsulting and Alexion focused on the following:
Redesigning policies and governance structure:
Optimizing materiality thresholds for journal creation

Optimizing journal entry approval workflow

Designing controllership reporting package and governance protocols
Driving JE standardization and automation:
Implementing leading practice journal entry technology

Developing end-to-end desktop procedures
Continuing to embrace digital technologies:
Expanding utilization of ETL and RPA
What's Critical for a Successful Rollout
Clearsulting and Alexion used a cross-functional and fully integrated project team. Collaboration and alignment between BlackLine, Clearsulting, and Alexion was key. Individuals included an executive sponsor, the project leadership and design council team, a core project team, and a support team, which included IT support.
Alexion highly recommends including a strategy phase when mapping out an implementation, regardless of what is being implemented. This phase allows stakeholder buy-in, process mapping, and collaboration to ensure the best user experience.
"If you want to set up that foundation for a scalable platform for further automation, that is where the benefit is—starting with the strategy phase to analyze current state and future state is critical," says Kate Apuzzo, Senior Manager, Record to Report Global Process Owner at Alexion.
Clearsulting also shared 8 common traits of a successful rollout:
Should be business-led, but technology-enabled

Differentiate between "optimize" and "transform" (but do both)

Keep a heavy focus on people and skills

Have a balanced governance strategy

Stay customer and product focused

Include a use case readiness precheck process

Foster a continuous improvement culture

Define, track, and report value
For Alexion, the benefits of the Journals implementation are already being realized. So far, by redesigning their journal entry policy and putting thresholds in place for journal posting, they have been able to reduce journal entries by 20%.
15 days ago
Better Together: How BlackLine + RPA + Other Technology = Finance Transformation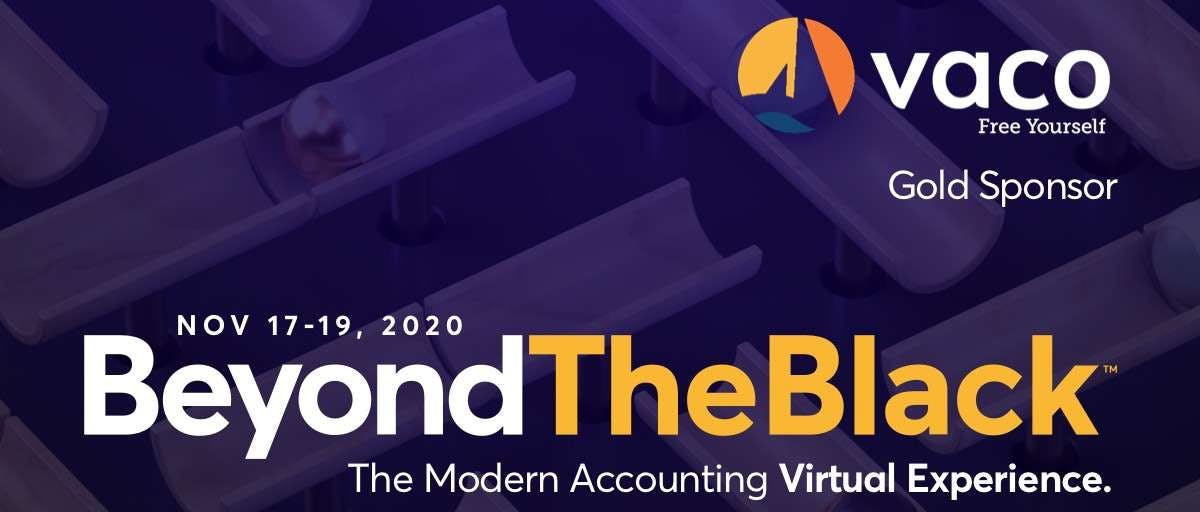 Mayra Herrera, VP of Core Accounting at World Fuel Services coined the term "borrowing brilliance." She says, "We're not trying to invent something, just trying to copy really smart people who have already done this."
This set the stage for her conversation with Jerrad Hall, Practice Leader, Finance Transformation at Vaco**,** about finance transformation.
Mayra was instrumental in implementing BlackLine at World Fuel Services two years ago. Since then, she's been focused on standardizing and simplifying the way they do things, making sure they have the right people and evaluating their entire ecosystem. Their auditors have been part of this journey, which has helped them achieve their goals much faster.
World Fuel has a large tech stack, and their team has learned the importance of networking within their organization, developing strong relationships with IT, and understanding the other finance groups and the tech they're using.
She says, "'How can we do this differently?' This is World Fuel's motto. There's got to be a better way."
Evolve the Way You Work + RPA
Finance transformation looks different for every F&A transformation, but Mayra recommends beginning your journey by starting with the end in mind—taking a step back to make sure you know what the ultimate goal is.
Prioritization has also been very important for her and her teams. They created a central process optimization group, which is dedicated to creating, viewing, and prioritizing any initiatives within the F&A organization. This has become a bridge between IT and other finance groups.
She encourages her people to:
Share their ideas for a better way, then look at the potential ROI and how this initiative can help evolve the way they work, and reprioritize

Learn RPA on their own and then apply it to current processes to save time, especially during the close

Learn new technologies, look at the tools in their toolbox, and learn about their applications
"We have a process automation mindset," says Mayra. "We live and breathe it."
Empower Your Team to Innovate + Other Technologies
"Times are different... we have less people to close, and we want to close sooner, and better... you need more time to analyze," says Mayra.
As a result, it's more important than ever to believe in the vision and ensure your people believe it, too. If ten people are on board but one is a naysayer, your progress will inevitably be slower.
She says, "Continue to remain curious, constantly thinking, 'there's got to be a better way' and encouraging your team to come up with their own ideas for a better solution. Learning is important, and always keep in mind that it doesn't have to be perfect the first time. As you continue to refine your backlog, involve your team in that as well. If they're part of that process, they'll be much more empowered to help you drive that vision."
Jerrad adds, "Be inquisitive and get in trouble. This is how to push the envelope and empower your team to innovate."
Better Together = Finance Transformation
This better together approach of technology and evolving the way we work, along with a renewed focus on prioritization, standardization, and automation is something you can take back to your organization after BeyondTheBlack.
Mayra gave these closing thoughts: "Remain curious, not only about what's out there in the market, but what's going on within the organization. Learn as much as you can, and then see how you can apply that knowledge to [continuously] improving."
15 days ago
Mapping Out Your Future with BlackLine
Finance transformation, change management, and closing with a distributed workforce might sound intimidating, but it doesn't have to be. In Mapping Out Your Future with BlackLine, Sonia Chu, Senior Product Marketing Manager at BlackLine, and Mike McNamara, Senior Director of Finance & Corporate Controller at Marinus Pharmaceuticals shared a guided approach to achieving modern accounting and how to set up your organization for continued success—even in this virtual new normal.
Measuring the Cost of Manual Accounting—Hard Dollar Costs & Opportunity Costs
There are high costs and risks with using outdated, manual accounting processes. Paper binders, lots of meetings, and overly complex spreadsheets are not sustainable. How can your organization shift to be more efficient and better prepared to close, even from home?
Here's what makes traditional accounting so chaotic:
Unifying and reconciliating data requires extensive manual use of spreadsheets

Too much technology that is fragmented; too many systems to pull information from and multiple ERP systems

Important information can get lost in communication between the phone, meetings, emails, instant messenger

Regulatory and reporting requirements are diverse and complex
Manual accounting is just not sustainable, it's costly. And the numbers prove it:
It takes too long – 69% say manual effort is the number one bottleneck in the financial close process

It's risky – 55% of finance leaders are not completely confident they can identify financial errors before reporting results

It's expensive – 350% more FTEs on general accounting/reporting for bottom performers

It hurts morale – 34% of productivity is lost for actively disengaged employees
And the current virtual environment is multiplying these costs:
Things are taking longer, communication is not as efficient, and key assumptions need to be revaluated.

There is more risk due to lack of visibility. Errors and issues are more difficult to identify.

Costs are likely to go up due to these inefficiencies. Audits are taking longer in the virtual environment.

And morale is even more at risk—professional and personal lives have been dramatically changed.
Making the Move to Modern Accounting—No Matter the Size of Your Organization
How do we address this at BlackLine? With Modern Accounting. Modern Accounting is unified, automated, and continuous. It's also achievable— you can get there faster than you imagine.
BlackLine fits in the middle of the Record-to-Report process, to:
Ensure balance sheet completeness and accuracy

Centralize and standardize the month-end close

Automate manual processes and optimize time

Manage complexity and scale for growth
The BlackLine Modern Accounting Playbook makes Modern Accounting achievable. This approach recommends moving away from manual processes and toward the core BlackLine platform for a streamlined and automated close.
This offers:
A central workspace with automated trial balance import

Standardized reconciliations with automation

Dynamic and transparent close activities tracking

Role-centric reporting and proactive alerts

Rule-based transaction matching for bank files

Enhanced controls
Plus, with additional functionality and capabilities, you can achieve end-to-end visibility, control, and automation across the close.
Marinus Pharmaceuticals Makes the Move & Scales for Growth
When Marinus Pharmaceuticals, a clinical stage pharmaceutical company, lost status as an emerging growth company, they needed to rethink the financial close process to prepare for future audits. Challenged with sacred F&A resources, Excel-based reconciliations, difficulty tracking tasks, lax documentation of reconciliation and controls, and a rare monthly close, Marinus chose BlackLine's Modern Accounting Playbook.
Marinus can now document account reconciliations and analysis in-line with audit requirements, has better task management and tracking for the team, and leverages the sophisticated user interface and workflow functionality.
"By month three after implementation, we fully onboard using BlackLine, and it was a real difference to us. It saved us a ton of time when we got to the close process," says Mike McNamara, Senior Director of Finance & Corporate Controller.
"Pretty quickly, we realized we made the right choice with BlackLine. We have a true monthly close now, we were able to automate our bank recs, and we can tell a story about the numbers through documentation."
Marinus is now better prepared for audits and can devote time savings from BlackLine to elevating the staff to be more impactful in the organization.
15 days ago
The Art of the Possible
BlackLine Speakers: Sean Bennett, Director of Strategic Innovation and Joshua Baldwin, Senior Manager of Strategic Innovation
Imagine a world where your data is more accurate, so you can make informed decisions. One where your teams have time to challenge the status quo, where you spend less time on routine, manual tasks, and one where there are fewer spreadsheets.
This world is possible!
You can live in a world of purpose-built software, one with a unified platform and a unified workflow for the entire process. That is the world that BlackLine can help provide.
BlackLine can help automate those processes, allow you to do the work of data analysis instead of the work to get there, and reduce your risk and manual processes. You can increase your visibility, your controls, and the time you have to spend on value-added work.
This is where the art of the possible comes into play.
There are specific areas of opportunity for automation that BlackLine can provide:
Accounting

Treasury

Controls governance

Intercompany

Business operations
Here are a few BlackLine customers who were able to use the art of the possible, so they didn't have to imagine that world—they made it a reality:
Owens & Minor was able to move to a remote close process with the onset of COVID-19. BlackLine helped create a foundation to enable a unified and remote close.
sPower shortened their close time by 66% and eliminated the need for close-based overtime.
World Fuel automated 79% of cash reconciliations and doubled their pace to twice per month while spending 50% less time on monthly and annual auditing. With a Continuous Accounting process, companies like World Fuel don't have to wait until the end of the month or year to do the work.
Hyatt was able to focus more on their customers instead of Accounting when they increased visibility across 200+ hotels all while making audits a "non-event".
Gonzaga University reduced the risk of human error with automation while also improving employee morale. Their accountants were thrilled when they were able to spend less time on mundane processes.
15 days ago
Virtualizing Finance & Accounting: Ground Rules for Closing the Books from Anywhere
Speakers: Carl Anderson, Associate Director of Accounting / Business Systems Support Lead, Takeda Pharmaceutical Company
Barbara Hsieh, Senior Manager, Product Marketing, BlackLine
Takeda is a patient-focused, values-based, R&S-driven global biopharmaceutical company. BlackLine's Barbara Hsieh talks about virtualizing modern accounting with Takeda's Carl Anderson.
Barbara: What were the immediate impacts of the pandemic for Takeda? What has changed and what hasn't?
Carl: As a global organization, it had an immediate impact. We've had to figure out a completely different way of working. We can't walk down the hall to ask a question or bring people together for training anymore.
But this has almost created a more focused endeavor. By taking away the ease of doing those things, it drives people toward a greater level of collaboration. It's forced us to look at how we're engaging with our end users and our BlackLine customers, how we're communicating and supporting them, and begin to evolve that so it's more of an end-user enablement. We've been giving our end-users the ability to upskill and give us very rapid feedback.
However, our approach and our customer-centric view hasn't changed. We're all still working toward the same goal.
Barbara: What other challenges have emerged from the pandemic? How has your team adapted?
Carl: This has been changing daily. We've been focused on getting folks on board and acclimated, and figuring out how to engage end users and leverage BlackLine across time zones and cultures and accounting processes. We've been able to find ways to align those processes and standardize, very rapidly.
Barbara: What makes Takeda so unique is your holistic approach to harmonize F&A processes. Can you talk about Takeda's journey to digital finance?
Carl: We've been focused on getting some good singles, and getting everyone on base—but we're also looking down the road, and finding ways to elaborate functionality within BlackLine to help us evolve. We're leveraging the tech we have to drive the change instead of trying to fit something in that doesn't necessarily work.
Barbara: Can you share the specifics on how BlackLine has been an enabler of digital finance?
Carl: It's a very straightforward, digital, unified platform. I can be on the East Coast and login to set up a user who is half a world away. At any point in time, if we want to see how journals are being prepared, we can do that in a matter of seconds.
We've been able to keep pace at Takeda with how quickly BlackLine is evolving—but it's almost outpacing us!
Barbara: How has BlackLine helped Takeda better respond to the current times?
Carl: Pre-pandemic, we all knew there was a value prop with BlackLine. We're focused on evolving the finance functions to be world class—and it's very easy to trip if you don't have the right tech in place. We've focused on standardization and the end users, enablement, and opportunities to optimize, and that's helped us maintain pace during the current environment.
We get more and more questions like, what else can I do in BlackLine? How else can I view this data?
Barbara: Looking beyond 2020, what are your next steps and priorities for 2021?
Carl: Our core use case stays steady. We're not trying to change or modify or evolve it too quickly, given that 2020 has been enough for all of us! But now we're beginning to move to version 2.0. Our focus right now is to get the entire organization standardized, continue to focus on compliance, and get our teams to believe in our vision—taking our users beyond just using BlackLine to being true believers.
Our goal is to evolve the application to be a heavy catalyst for our evolution into digital finance. Finding ways to add value through analytics and correlate that to other operations, and find new use cases and opportunities to leverage BlackLine.
Barbara: In closing, could you share some best practices you have for enabling digital finance in a virtual world?
Carl: Look around and see what tools you have that will help you drive some of your initiatives. Figure out what you can use to build a strong, solid foundation—then you can layer a really good structure on top of that. For us, this happened to be BlackLine.
Focus on upskilling and enabling your internal team with what they need to be digital champions. Have dreams, have a vision that can become a lighthouse that helps guide you and gives you a focal point, regardless of what changes in your day to day.
Updated: 15 days ago
15 days ago
Customer Innovation Showcase: The 2020 Modern Accounting Awards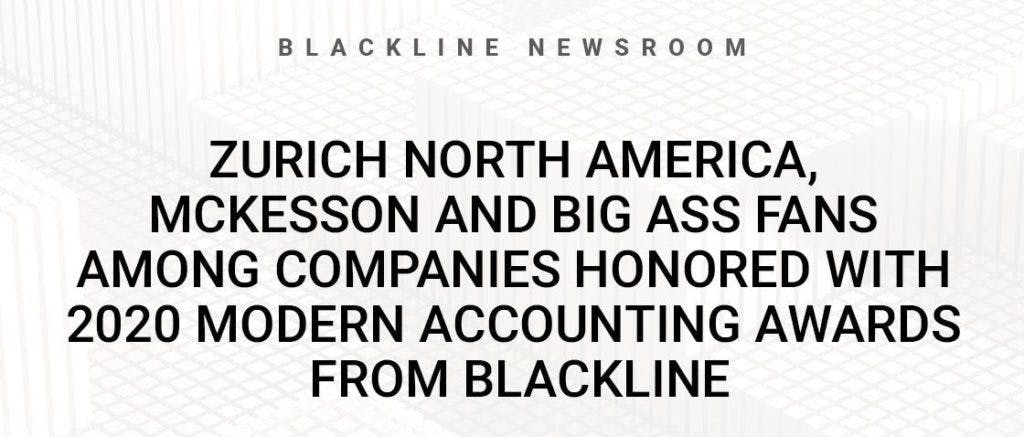 Therese Tucker, BlackLine Founder and CEO, was on hand to deliver the Modern Accounting Awards to this year's winners in one of these five categories:
Unifier

Accelerator

Closer

Modernizer

Transformer
UNIFIER – Zurich North America
Doug Tramp, SVP, Claims Chief Operations Officer received the Unifier award for Zurich NA, a leading insurance company who serves businesses of all sizes, including Fortune 500 companies. Doug believes that Zurich NA is at the heart of digital transformation and that digital transformation is about updating archaic processes to modern ones.
Zurich NA's BlackLine journey started in 2011 when they implemented Tasks and Recs and it made a huge difference in their monthly close.
Despite changes and moving from one ledger to four, BlackLine helped them increase their auto-certification rate without increasing the workload on their team. In fact, SAP considers their S/4HANA implementation to be one of the best. With it they were able to link old historical accounts to new accounts, and in the process avoided losing the history while ensuring a data integrity check.
More recently, Zurich NA began their "Matching March" to create more efficiencies. They just implemented their first Matching process with a reconciliation and while they are learning to crawl right now, they're getting ready to walk.
ACCELERATOR – Intel
Therese "handed" out the Accelerator award to David Stormo, Automation Solutions Lead, Corporate Accounting at Intel.
David said that over the past year, Intel has seen an acceleration of their automation and digital transformation. To Intel, digital transformation means a shift in mindset, away from transaction processing and toward data analytics. They want to analyze the data to provide business insight and they want their accounting professionals to utilize the skillset they learned in school to do just that. BlackLine helped them accomplish that task.
David realized that starting at the top is important and has helped move Intel's digital transformation forward. Knowing your processes before going in really helps drive changes once you're ready for digital transformation.
Intel also found change management to be vital and that communicating what is going to happen over and over allowed them to accelerate their transformation into the digital era.
CLOSER - McKesson
Noel Rivenes, VP & Controller – North American Financial Shared Serviced received the award for McKesson. Noel discussed how the company has been able to deliver efficiencies through technology and that's what digital transformation means to them.
At number seven on the Fortune 500, they have a complex environment, but in their digital transformation, they've focused on ROI, how quickly they can gain efficiencies, and how much time they can save on automation.
But also, it matters how easy it is for their teams to use because when a company can see the results in real time, it helps drive further change.
In the past few years, they've gone through an optimization of their tool and have brought everyone together to standardize how they use it.
In targeting some of the low hanging fruit on their digital transformation project, McKesson deployed risk rating, which has helped save a huge number of hours while making an enormous difference to their team.
They were able to modify the frequency of how many reconciliations people were doing at the time based on the risk factors. Therese noted that it's a great way to save time and money, which is a big part of digital transformation.
MODERNIZER – Big Ass Fans
Eric Evans, Chief Financial Officer of Big Ass Fans accepted the award for the company. Eric feels that embracing finance transformation is an existential need. With that in mind, no matter what process or technology, it all starts with people. If there isn't a great team, it can be difficult to get the finance transformation efforts off the ground.
But great people require both transformation and process to avoid burning out. That means understanding that you have great people, and then taking great technology like BlackLine to develop those processes and grow momentum.
As employees move away from tasks that don't add value toward ones that do, it inspires them to do more because they're not working late, there are fewer fire drills, and they're generally happier to work.
Additionally, Eric understands that making sure the foundations of your business are compliance and control, which is key because it means people will trust the numbers. And BlackLine has helped establish that foundation by setting up the core processes and making sure they're not on the fly, so the work is easier.
TRANSFORMER – Johnson & Johnson
Receiving this award for Johnson & Johnson was Mike Polaha, Senior Vice President, Finance Solutions and Technology. J&J has a complex landscape with many different ERPs and employees all around the world. Transformation takes on a different meaning when the project is that big.
Mike explained that they wanted to ensure they had the proper clarity, so they set out to figure out what business problems they wanted to solve, and then worked from there. They focused on elements of the foundational strategy around quality and accurate data.
Accounting and Finance is made up of so many processes and systems that figuring out what to tackle first can be challenging. Mike explained that they started with what they could control: data.
They viewed it as an enterprise asset and wanted to ensure that it was a high-quality asset. From there, they moved toward forecasting and analytics using that high-quality data. Getting the data right became energizing fuel so they could be more forward looking and help the business. They determined what markets they wanted to enter into and how they could support their business growth objectives. Mike noted that planning can't be legitimate without accurate data.
Johnson & Johnson has seen value on multiple fronts from their usage of BlackLine. It has given them real time visibility into their reconciliations. As they evolve toward automating their journal entry workflow, it has provided efficiencies and workflow capabilities, but also business intelligence about the process itself.
Updated: 15 days ago
15 days ago
An Interview with Deloitte Managing Director Tom Toppen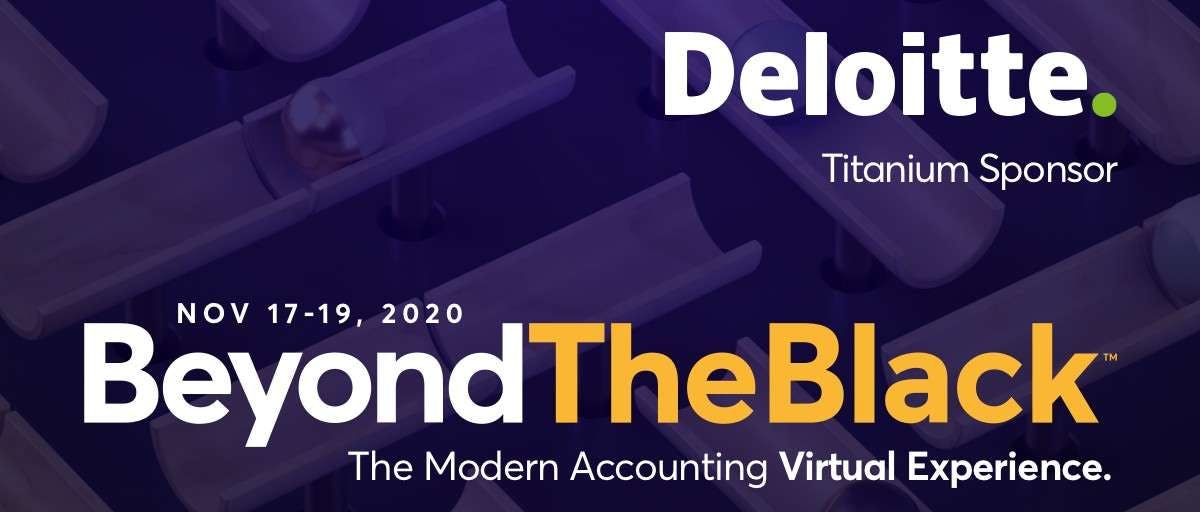 Speakers: Marc Huffman, BlackLine President & COO
Tom Toppen, Managing Director, Deloitte
Marc: What's on the minds of CFOs for 2021?
Tom: Anticipating continued trends to achieving pre-pandemic operating levels. Organizations are getting back to pre-COVID operating levels. Continuing to manage cash liquidity through cost containment and productivity gains.
Marc: How is this impacting the work of the Controller?
Tom: Controllers are continually called upon to help the CFOs drive and execute a lot of the main initiatives, such as the continuation of the move to digital. When the pandemic hit, companies that were working from a digital platform were well prepared and able to close on time.
Another area where we're seeing controllers drive impact is around the operating model. The last eight months have taught us the importance of communication and understanding of who's doing what. This is an opportunity to shift to automation, and shift risk activities to the right parts of the organization.
Marc: How do you see the operating model impacting the workforce?
Tom: We're seeing embracing the technology capabilities that are out there, more fully optimizing those. It's about creating capacity for organizations (controllerships) to do more around analytics, the strategic elements that the organization needs. We're also seeing the org being able to use that capacity and start to resource projects that are already underway. The free up of capacity, the melding of tech with the existing workforce and the reevaluation of what that operation models look like is going to continue to evolve. I see people embracing technology and being able to use their new capacity to add more value to the broader business.
Marc: How is Deloitte helping their customers during this time?
Tom: We've been helping our clients optimize their use of technology. It's critical that organizations focus on technology and also enhance enabling areas to maximize their return on their technology investments.
Marc: What should we expect to hear during your session with Johnson & Johnson?
Tom: I'd encourage everyone to attend this session with Johnson & Johnson, where we'll be discussing how to create a seamless and integrated financial ecosystem. We'll be joined by a cross-functional panel that will also include SAP, Workiva, and BlackLine, and dive into how to get the most out of your current or future BlackLine setup by integrating with both upstream and downstream technologies.
This session is called Creating an Ecosystem with BlackLine, Your ERP & Other Applications and is happening tomorrow (Wednesday, November 18) at 12:00 pm PT.
Updated: 15 days ago
15 days ago
The Future of BlackLine: Making the Move to Modern Accounting, Together
Speakers: Marc Huffman, BlackLine President & COO
Kevin Kimber, Managing Director of BlackLine AR Automation Global Business Unit
As we continue to hear the first keynote of this year's BeyondTheBlack conference, Marc Huffman has some exciting and quite sizable announcements—an entirely new BlackLine solution and a new customer journey framework!
BlackLine has a clear vision: to lead F&A through strategic transformations worldwide, and to be the most indispensable platform for the Controllership. Managing the financial close is an important part of this, but we are innovating for Accounting in three distinct ways:
Increasing our Functional Innovation by investing development resources to rapidly advance platform functionality

Expanding our Solution footprint to bring end-to-end optimization and automation to other accounting areas

Revolutionizing your experience as a customer by Removing the roadblocks on your transformation journeys
Account Reconciliations is a key differentiator for us. We don't take our responsibility here lightly. That's why we're raising the stakes.
In 2021, we will be releasing BlackLine Account Analysis—a new solution that analyzes unmatched transactions in high volume, high risk accounts and provides a clear process for identifying, tracking, and managing exceptions. Every exception will be surfaced with clear action plans so they can be investigated, explained, and resolved. Your team can add notes, comments, and documentation as part of a fully auditable workflow.
Huffman encourages attendees to attend the Account Analysis sessions here at BeyondTheBlack to learn more about this exciting new functionality.
Our platform has long centralized data into a single platform and enabled control and automation for financial close and accounting processes.
We remain as committed as we've ever been to helping companies ensure compliance and reduce risk in their financial close. And we're actively building on that foundation to expand our solutions to help our customers optimize and automate other critical accounting processes.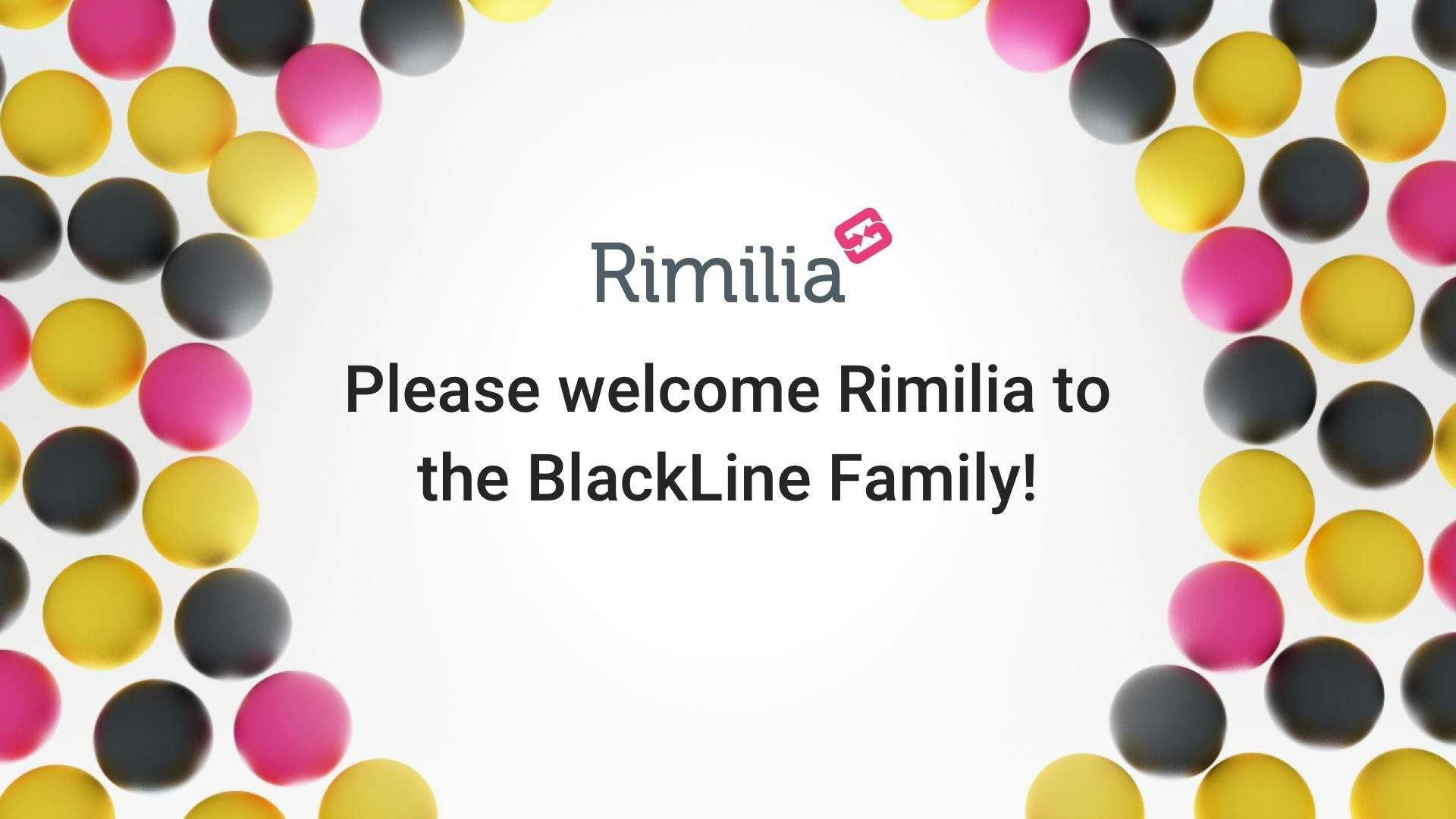 The next area of solution expansion Huffman focuses on is high-volume accounts receivable processes.
Following the acquisition of Rimilia—a leading provider of AI-powered accounts receivable automation solution—today we are re-launching Rimilia Cash as BlackLine Cash Application. Huffman welcomes Kevin Kimber, the Managing Director of BlackLine's new AR automation global business unit to add some context and solidify the new relationship.
Kimber says, "Cash is vital to every business. With working capital becoming more critical to every business, there is a renewed focus on how organizations manage cash in the business. Automation is not new—in fact, finance teams have invested millions of dollars in automation, paying particular attention to Accounts Payable functions, yet so far paid little attention to money coming in and their Accounts Receivable."
Organizations are missing a huge opportunity to be more productive. Even more important organizations are missing the opportunity to release cash tied up in Debtors that would add so much value to the business.
Why does that matter? Let's break it down:
Costs – with 1 trillion dollars of unapplied cash sitting on balance sheets, significant costs savings are instantly recognized as working capital is optimized overnight

People are enabled to focus on more value-adding activities—I would suggest that there is more value speaking to a customer about business and their next payment than chasing them for a remittance

Process – a fully transparent, auditable, and SOX-compliant process that significantly reduces human error

Customers have an improved experience as their credit account is reconciled in minutes not days and so credit lines are fully available

Results – there is a significant reduction in unapplied cash through automation—customers usually report an overall reduction from 75% to 99%
Kimber goes on to provide a demo of the new Cash Application solution, the benefits of which include:
Automated cash application of over 75% before the working day starts

Intuitive and system-assisted exception management, ensuring over 90% of cash is applied by mid-morning

Reduced headcount of over 70%—redeploy these employees to value-add tasks such as cash collection and risk management

Real-time visibility and access wherever you are in the world, integration with any ERP, in any region, for any currency

Easy to implement, simple to consume, delivering rapid time to value
To wrap up this introduction to the new solution, Kimber states, "Rimilia was built by finance people, for finance people. I believe that fundamental understanding of the broken processes I have described today has helped us to help our customers as we walked in their shoes. We focus on delighting our customers by ensuring real, measurable results."
Customer Experience Revolution
One of the key ways BlackLine is investing and innovating to be your most indispensable platform is not by focusing on technology, but by redoubling our focus on our customers. We are launching a new customer journey framework to speed up time to value, accelerate solution optimization, and continue your modern accounting journey with agility, because powerful, easy-to-use, innovative technology is only half the story.
Today marks the formal announcement of BlackLine's Collaborative Accounting Experience as a framework to guide you along every step of your journey to modern accounting.
BlackLine has applied the core tenets of guidance, connection, and commitment to methodically advance each customer's finance transformation journeys, no matter where you are today.
The Modern Accounting Playbook – builds a foundation for your journey with BlackLine

Our new Accelerators – optimize your current use of our solutions to drive more value with data-driven guidance and expertise

Our new Catalysts – End-to-end solutions that will be available early next year for you to conquer additional, advanced accounting use cases you are not tackling today
Taken together, the Collaborative Accounting Experience—beginning with the foundation of our Modern Accounting Playbook, then optimizing with Accelerators, and automating via Catalysts delivers on our promise of modern accounting. And with our partners, we will join forces to personalize your customer journey in a scalable way that helps you achieve so much more with less stress.
BlackLine values the relationships we have with our partner ecosystem, which provides value across the board, to both BlackLine and our customers.
BlackLine partners are fluent in BlackLine, in digital transformation, and helping companies make the move to modern accounting. No matter the size of your company or scale of the challenge you are tackling, by connecting with our partners, you'll get the best finance transformation expertise and guidance, and together—you, our partners, and we here at BlackLine—are committed to your transformational success.
With this in mind, Huffman welcomes Tom Toppen, Managing Director, from BlackLine partner and BeyondTheBlack Titanium sponsor, Deloitte, to wrap up and speak on the future of Accounting and Finance.
Updated: 15 days ago
15 days ago
Leading with Resilience & Agility: Make the Move to Modern Accounting
Speaker: Marc Huffman, BlackLine President & COO
Everything has changed in 2020—the way we work, the way we shop, the way we relax, the way we learn, the way we celebrate, and hopefully, the way we look out for each other. 2020 has challenged us to rethink everything and adapt quickly.
COVID-19 has proved to be an incredible test for business, Finance, and Accounting. The pandemic didn't care where you were in your digital finance transformation. No matter how prepared you were, you had to react quickly. Business changed radically, and so did Finance, as we had to shift to a digital model overnight. This led to unprecedented disruption:
46% were disrupted by manual tasks that could no longer be carried out in the office

41% were disrupted due to the difficulty of just sharing paper documents

36% were disrupted from limited access to on-premise solutions while they from home
And yet, in other areas, 2020 has changed nothing. We've all experienced a disrupted year, but for Finance & Accounting, the challenge exacerbated by the pandemic has been holding companies back for years. That is, traditional manual accounting processes are not sustainable:
Manual effort is the number one bottleneck in the financial close process

More than 90% of spreadsheets contain serious errors, while more than 90% of spreadsheet users are convinced that their models are error-free

55% of finance leaders said they were not completely confident they could identify financial errors before reporting results

Nearly 70% claim their organization has made a significant business decision with inaccurate financial data
Manual accounting hurts morale and productivity, it costs too much, and its costs cause pain for everyone in F&A.
On the other hand, The BlackLine Accounting Cloud—combined with our expertise—enables modern accounting, which is unified, automated, and continuous. And it provides these three vital pillars to modernize accounting:
We help companies manage and standardize the financial close

We help companies automate accounting processes

We help companies ensure intercompany governance
When the pandemic hit we rallied to ensure our customers had everything they needed to adapt to working remotely:
We launched a resource hub on our website with best practice guidance for closing virtually

We opened a library of complimentary BlackLine U training courses to help your teams use more of BlackLine from home

We even launched a new program to help customers prepare for their first-ever remote audits
Whether it is your month-end or year-end close, disruption or not, the critical work you do must get done.
Updated: 15 days ago