Mobile App, Intercompany Settlement, Insights & More
The November 2015 Product Release for BlackLine may be the largest yet, and certainly delivers more user-facing features than any other update this year. The combination of features facilitates collaboration across workflows, broad system access from anywhere, unprecedented visibility into multi-entity organizations, and benchmarking analytics for accounting.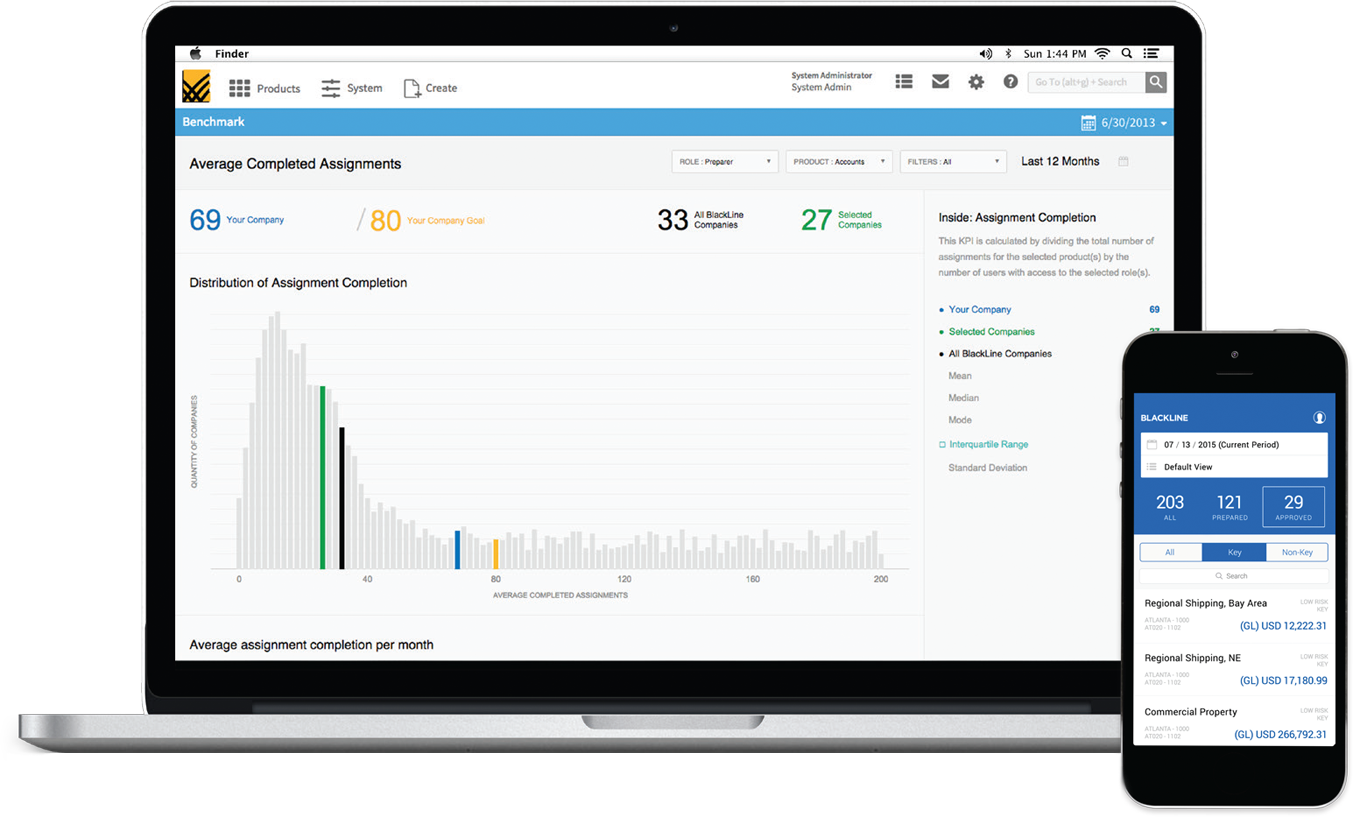 BlackLine users can now manage account reconciliations from anywhere. As part of our continued commitment to delivering tools to hasten end of period accounting and streamline processes with technology, the BlackLine Mobile App allows for the viewing, approval and review of reconciliations from iOS and Android devices.
At BlackLine's 2014 User Conference, CEO Therese Tucker announced the launch of Intercompany Hub , a global clearinghouse solution for intercompany transaction management. The product already delivers automated journal entry creation and posting as well as invoice generation for inter-entity transactions, and the November release adds the ability to see an Intercompany Settlement Matrix. Business leaders can now see the transactions and totals between initiators and recipients, i.e. who owes who within a company or across entities, and drill down into each for more information. Companies will get unprecedented visibility across the entire organization.
Attendees at this year's user conference, InTheBlack 2015, will gain early access to special demonstrations and feedback sessions for our new product BlackLine Insights. Insights will provide controllers and CFOs deeper analysis of close practices within an organization and benchmark critical outcomes across industries, geographies, company size, and more. Register for InTheBlack 2015 or contact BlackLine Account Management afterward to learn how you can accurately and dynamically benchmark your results.
Leading Among Cloud Companies
BlackLine has invested a great deal of resources in its infrastructure over the last couple of years. As a SaaS cloud platform, uptime is critical to our clients and users. Trust BlackLine is a new site that provides public access to the uptime and performance of BlackLine. If there are any issues or outages, these will be shown here as well. Users can review BlackLine security standards and report potential threats, such as phishing scams, for BlackLine to investigate. BlackLine is confident in the improvements made to its private, unified cloud platform we want to rest our clients assured that they are working on and with the best platform for finance and accounting automation.
Subtle, Natural User Experience Improvements
Not all enhancements receive the red carpet rollout of the latest major features and products, but that doesn't minimize their importance to BlackLine users. For example, now when entering a note in the Comments div of BlackLine products, users can type "@" to open a list of other users within an organization and tag desired team members. User Mentions will send an email to the tagged user and provide a link directly to the div of BlackLine, e.g. that specific reconciliation, and the recipient can reply directly to the originating user via email. Collaboration on a given task has never been easier.
Users of BlackLine Journal Entry will love the new Worksheet Lines functionality. When editing or importing lines in a given journal entry, users can now paste data directly from another spreadsheet into BlackLine. Once entered, BlackLine can validate the information to ensure necessary data is not excluded and catch any errors in the spreadsheet. This will save journal preparers time.
Another example of a subtle but big improvement can be found at the top of the BlackLine menu bar. Following the November Release, users will see a new button labeled "Create." This "Quick" Create Button allows users to initiate the creation of new Journal Entries, Intercompany Transactions, Admin Requests, and Task Requests, from anywhere in BlackLine.
Enhanced Reporting and Enhanced Visibility
Providing visibility into our clients' finance and accounting processes is a key differentiator and primary driver for BlackLine development. To that end, the November Release will provide clients leveraging BlackLine Enhanced Reporting with a big update. Users can now run reports for multiple periods and, when used with the cross-tabular report, gain visibility into trends across the selected time periods. Analyzing trends across periods will help accounting managers discover anomalies or areas for improvement. Along with Trend Reporting, users can use Enhanced Reporting for Variance Analysis, adding a new layer of data visibility for those using BlackLine Variance Analysis.
InTheBlack 2015 – BlackLine's Annual User Conference
This year's annual BlackLine User Conference, now known as InTheBlack 2015, is our premiere event for clients, partners and industry leaders. The theme of the conference — Now. New. Next. — will allow attendees to walk away with a better understanding of what is NEW with innovative products and services, and what's NEXT for the future of finance and accounting. Hear from your finance and accounting peers at some of the world's most prominent companies how they leverage BlackLine to change the way finance and accounting works across their organizations. InTheBlack will help you develop a firmer grasp of current industry trends, learn best practices using technology, and see how BlackLine is shaping The Future of Finance and Accounting.