At BeyondTheBlack in November, we shared our roadmap for building the most indispensable platform for controllership. The February '21 Release delivers on that promise with new innovations including automation solutions for accounts receivable, reconciliation templates for more complex scenarios, an API developer hub, and customer-driven user experience enhancements. Here are some of the highlights.
Shift your focus from customer transactions to customer experience.
BlackLine's Cash Application is a new solution that enables companies of all sizes to automate over 75% of cash application before the workday starts and more than 90% by mid-morning. Companies' accounts receivable functions can reduce up to 85% of manual processes and reduce Days Sales Outstanding by 10 or more days. Speed up your accounts receivable cash application using artificial intelligence to automatically match customer payments to invoices and reduce unapplied cash by up to 99%.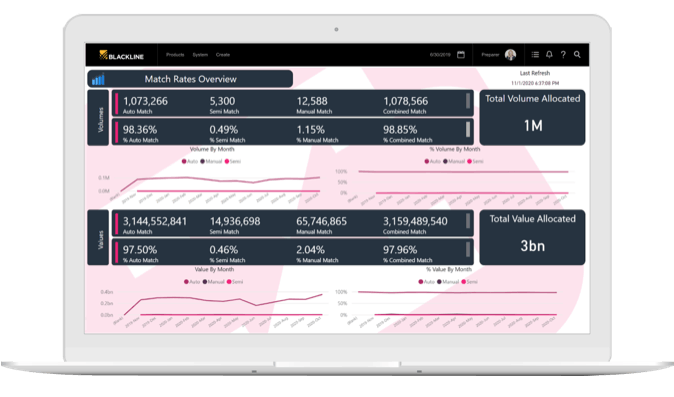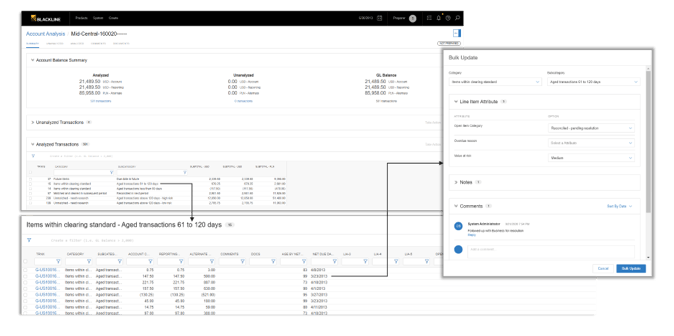 Proactively manage exceptions and reduce risk for high volume accounts.
Companies spend countless hours tracking down issues related to transactions that fall outside a given threshold and require further detective work and investigation. This work includes monitoring of aging, following up to correct potential issues, and checking progress toward a resolution. BlackLine Account Analysis analyzes unmatched transactions in high volume, high risk accounts and provides a clear process for identifying, tracking, and managing exceptions.
"So much of this work is done today in spreadsheets. It's a traditional reconciliation process that often leads to spreadsheet gymnastics to remediate open items. The modern accounting version, BlackLine Account Analysis, now provides the complete end to end reconciliation allowing a deeper level of detail, categorization, and resolution."
Marc Huffman, CEO, BlackLine
Unify Data, streamline processes, and fuel analytics with APIs.
There are opportunities to automate the most hardened accounting processes. But only if you can connect and tap into all the systems your vital accounting data flows through. APIs now offer the opportunity to connect in a whole new way―in real-time and intelligently. This means that you can easily put BlackLine at the center of your accounting landscape, so you can centralize, orchestrate, and control accounting. Learn more about, and start using BlackLine APIs via our new BlackLine Developer Hub.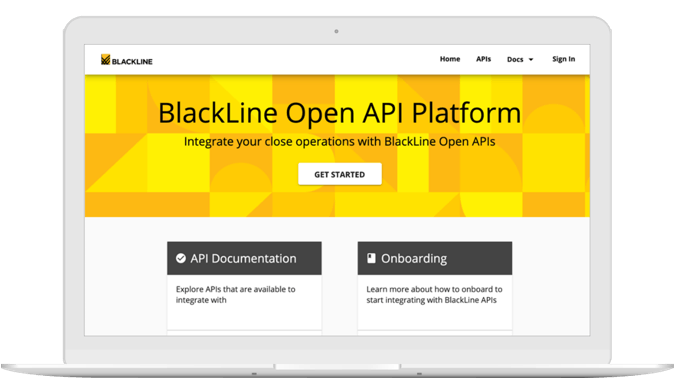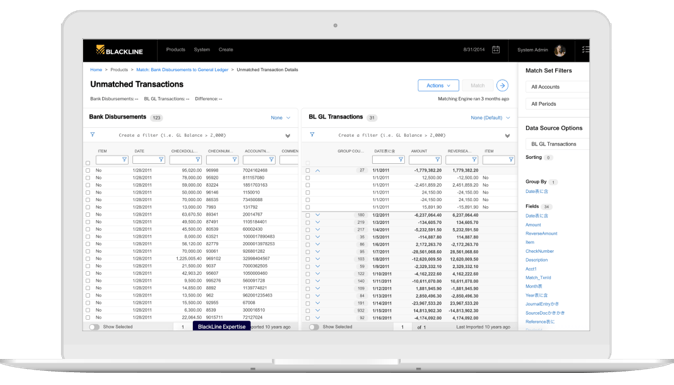 Analyze and match transactions with more clarity in less time.
While BlackLine customers match more than 10 billion transactions per year, some still require research and resolution. We've completely redesigned the Unmatched Transaction page to streamline the process of manually matching transactions. You can now customize views so you can surface the most important or commonly used items to make a match. This new page will make the process a lot more efficient and give you time back to focus on other projects.
Get everyone on the same page with Shared Views.
One of the reasons you use BlackLine is to help your teams work from a single source of truth that unifies systems, processes, and visibility. Shared Views will allow your System Admin to set up standardized views based on what matters most for all users in just a few clicks. When each user accesses BlackLine, they will all see their work in the same format as their colleagues, enabling the entire team to work more consistently and collaboratively.