Your Guide to Finance Transformation
Achieving an efficient and exceptional close doesn't happen overnight.
By choosing BlackLine, you've taken critical steps for improving your close, but there's always room for continuous progress and innovation. Where is your organization in the journey to finance transformation? And what measurable steps can you take to progress to the next stage?
At BlackLine, we've developed prescriptive pathways to get you from point A to B. No matter where you are in your journey, we have a solution set tailored to your needs—whether they be increased clarity around workflow, or automated processes to add efficiency.
Use this form to get in touch with your account manager to discuss what's next for your business.
"BlackLine allows us to put robust controls in place, and helps ensure flexibility as we grow and scale. We see it as a long-term solution."
Mark Hasen, Director of Finance & Accounting, Pluralsight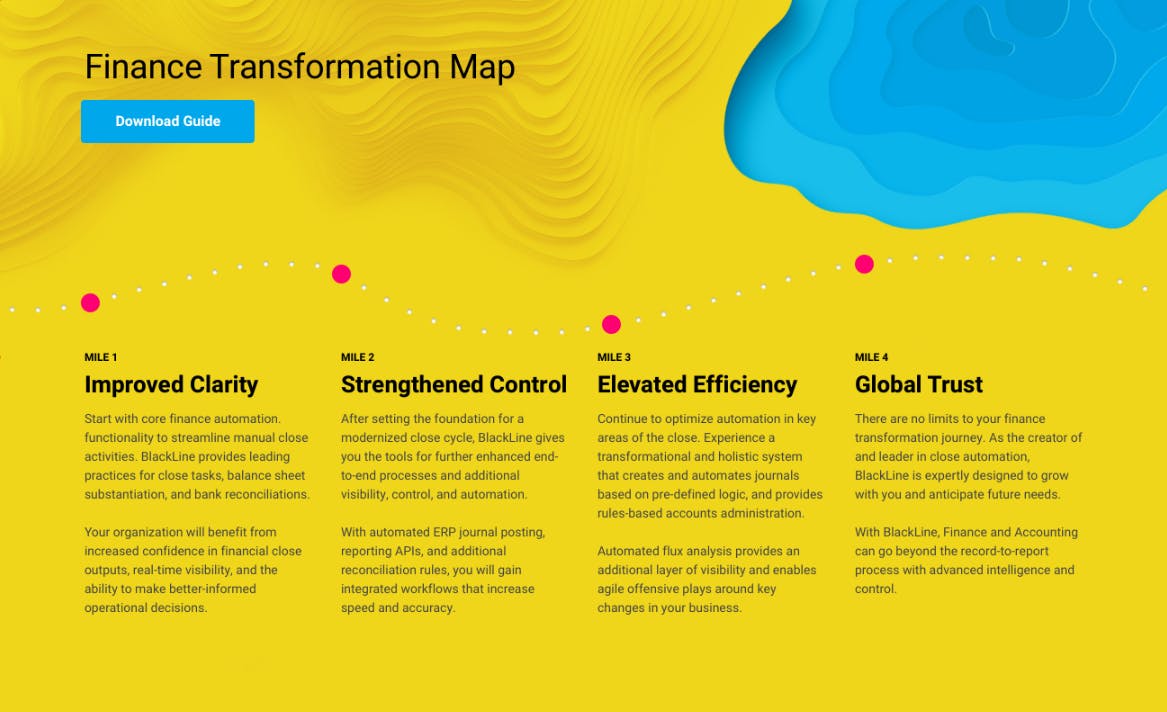 Mile 1
Improved Clarity
Start with core finance automation. functionality to streamline manual close activities. BlackLine provides leading practices for close tasks, balance sheet substantiation, and bank reconciliations.
Mile 2
Strengthened Control
After setting the foundation for a modernized close cycle, BlackLine gives you the tools for further enhanced end-to-end processes and additional visibility, control, and automation. With automated ERP journal posting, reporting APIs, and additional reconciliation rules, you will gain integrated workflows that increase speed and accuracy.
Mile 3
Elevated Efficiency
Continue to optimize automation in key areas of the close. Experience a transformational and holistic system that creates and automates journals based on pre-defined logic, and provides rules-based accounts administration. Automated flux analysis provides an additional layer of visibility and enables agile offensive plays around key changes in your business.
Mile 4
Global Trust
There are no limits to your finance transformation journey. As the creator of and leader in close automation, BlackLine is expertly designed to grow with you and anticipate future needs. With BlackLine, Finance and Accounting can go beyond the record-to-report process with advanced intelligence and control.